Well, here we are…. Wondering, why would you want to do this to a perfectly good truck that runs great…, Well to make it Awesome.
I decided to do this for a few reasons, 1 I'm waiting for a prototype hydrogen delivery system to be completed and sent to me, so I can attache it to the demo system and 2nd, I'm board of waiting a exceedingly long period of time. So I thought Hmmm what can I build that would be Fun and Not practical. Practical is taking way to long. So the Blue Truck Build came to mind, I like fast vehicles loaded with electronics and want good gas mileage when not driving in insane mode, Can this be done, I think Yes.
Seeing how a turbo basically can double the horse power of a engine sounded good, going from there, the 2010 Flex fuel 5.3 I have is a very good candidate for the upgrade because it doesn't require any engine mods to hit 650hp although the drive train might think differently.
I started with the basics, adding a twin remote oil filter set up and using Royal Purple filters and oil. Next added the MPVI2 programmer from HPTuners ,upgraded the ECU operating system that will allow for boost, adding a few tables, made a few tweeks and took it out of DoD mode, then added a 3 bar MAP sensor, wide band O2 sensor and manifold vacuum sensor and electronics from PLX along with there multi gauge. Then added the inter-cooler from On3 Performance. Mr. Jayson at Supreme Muffler Shop did the custom fabrication for the oil system and inter-cooler, they will be doing the final install of the tubo, manifold and exhaust system.
I'm using Turbo Smart blow off valve, waist gate, and boost controller. Tubo blanket, manifolds and piping from On3 and turbo from CX Racing. The parts list can be found below. Currently I'm waiting for some parts to come in before performing the next phase of the build. Wow does that sound familiar, waiting waiting it's killing me. but it shouldn't be long now.
When planing any upgrade, look at the costs of all the supporting equipment and minor parts that are needed, sometimes these added costs can be as much as installing the major components.
As the process continues I'll take more pics and post more info.
The steps are these.
Install Supporting equipment.
Install manifolds, turbo, lines, hot and cold piping.
Take for dyno tune and get paper results.
Might add cam, lifters, rocker arms, fuel pump, fuel rails, depending on dyno results.
add H1 Accelerator and re dyno tune. get paper results.
Have some serious Fun…
Chevy 2010 Parts List
Engine Electronics
GM 3 Bar Map Sensor
SM-AFR Wideband DM-6 Gauge Combo (Gen4)
SM-Vac/Boost – Vacuum/Boost Sensor Module
MPVI2 VCM Suite Programmer
MPVI2 Licences
MPVI2 Pro.
Truck Sound System
4 Metra 72-4568 Speaker Harness
4 SCOSCHE SAGMHR634B 6.5" or 6.75" Front and Back Door Speaker Adapter Pair
4 -Rockford fosgate Punch P1675 Punch 6.75″ 3-Way Full-Range Speakers
Truck Suspension
Chevy Silverado 1500 4wd & 2wd – Hellwig REAR Sway Bar (1 1/8″ diameter)
CHEVROLET SILVERADO 1500 Traction Bars
Turbo Set up
On3Performance hot side, turbo manifold, u pipe from bank 1 to turbo manifold, down pipe, turbo exhaust pipe.
Turbosmart Race Port Blow Off Valve Universal BOV Turbo Blue TS-0204-1101
Turbosmart Gen-V WG45 Hyper-Gate 45 7psi Blue TS-0553-1001
Turbosmart In Cabin Boost Controller Blue TS-0106-1001
T76 Dual Ceramic Ball Bearing Turbo Charger T4 .96 A/R Q Trim 800+ HP For LS1
Product Code: TRB-T76-Q96-RR
4″ Aluminum Race Core Intercooler Bar and Plate, Design Coupler Kit: 2- 3″
On 3 Performance T-4 Titanium Series Turbo Blanket
3″ Self Aligning V-Band Vband Clamp Flange Kit Turbo Exhaust Stainless
3″ Straight BOV Piping for 50mm Tial Q or Turbo Smart Raceport
3″ Vband 90 Deg T4 Turbo Elbow Adapter Flange 304 SS Cast Center WG Tube
3″ UNIVERSAL TURBO INTERCOOLER PIPING KIT
Rev9Power Rev9_SH-SR-250300-BLUE; Silicone Hose Straight Reducer 2.50 To 3.00 Inch
TurboSmart T40 Turbo Oil Pressure Regulator 40 PSI (BLUE)
GlowShift 1/2" Fuel Line Fuel Pressure T-Fitting Adapter (2)
Edelbrock/Russell 656020 Competition Straight -3AN to Straight -3AN Brake Hose – 12″
Stainless Steel 90 Degree -3 AN Male Flare to 1/8 NPT Male Tube Pipe Converter Hose
Adapters Fitting (JIC -3 AN 3/8-24 to 1/8 inch NPT SS) (2)
yjracing 20Ft an-4 Stainless Steel Braided Oil Fuel Gas Line Hose + 4AN Fittings Kit (Silver)
High Performance Silicone Vacuum Hose – 10 feet – .1375″ ID (3.5mm) – Blue
Docooler Vacuum Manifold Kits 6 Port 1/8 NPT Turbo Wastegate Boost Block
5pcs 3/8″ 10mm Fuel Non Return One Way Check Valve Petrol Diesel Aluminum Alloy
AN12 12-AN AN-12 Braided Stainless Steel 0.69″ Turbo Air Fuel Line Hose Tube
Blue Cylinder Aluminum Engine Oil Catch Reservoir Breather Can Tank + Filter Kit
Miscellaneous Clamps, Ties, T's, grease fittings,wire and so on.
Oiling set up
Turbo
Feed Line Kit fitted to the Hamburger's filter mount
Truck
Hamburger's® 3384 – Billet Aluminum True-Dual Double Oil Filter Relocation Kit
Hamburger's® 3327 – Billet Aluminum Spin-On Oil Filter Bypass Adapter
Oil kit fittings
Oil lines
2 Royal Purple 30-1218 Oil Filter
Mounting and Bracket installation
Truck Cam
Camshaft, Hydraulic Roller Tappet, Duration at .050 in., 211/230, Lift .562/.562, Chevy, LS9,
Chevrolet Performance 12638427 – Chevrolet Performance LS Series Camshafts
Summary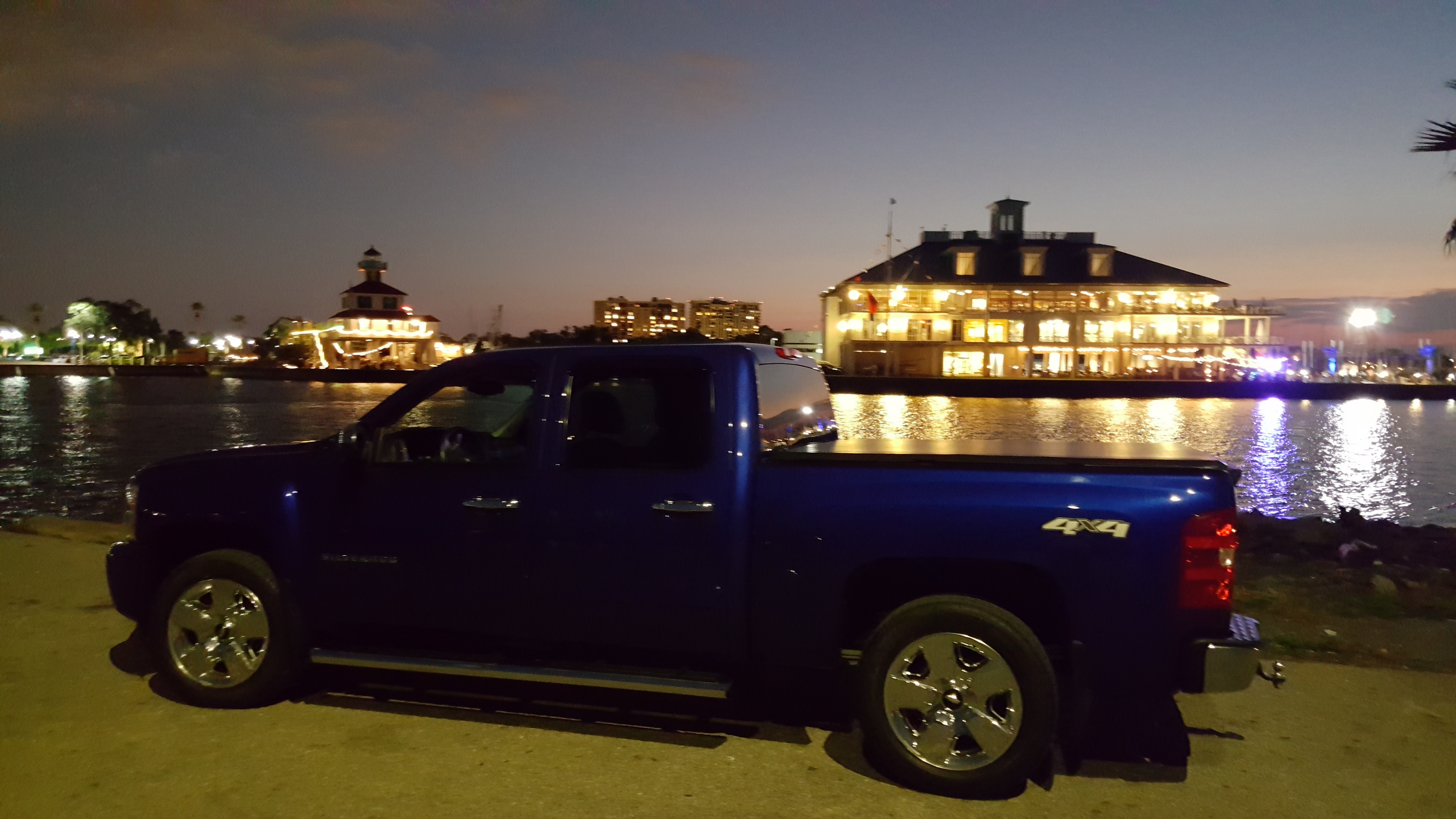 Article Name
Description
I will be using my 2010 Chevy Silverado 4 door 4x4 , with a 5.3 liter aluminum block and heads, I'll be adding a turbo and a Haring Laboratories H1 Accelerator to it. The goal is a min 650 Hp and at a cruising speed of 70mph to achieve at least a 25 mpg average. The Idea is to take a stock engine add a turbo, H1 Accelerator and a ECU tune to achieve these goals.
Author
Publisher Name
Publisher Logo